Although Wix and GoDaddy are two of the biggest hitters in the industry for website building, they differ in various ways while offering different sets of strengths and weaknesses – but which one is better overall?
Both website builder providers are remarkably beginner-friendly, feature-rich, and offer excellent value for money. However, one of these solutions will give you more creative control over your site while the other will make up for the lack of control by making it much easier for common users to create an online presence.
One is better for e-commerce sites, while the other is more suitable for low-budget start-ups. One offers a wide variety of plans to choose from while the other doesn't have many choices but offers a user-friendly plan with no strings attached – and the differences don't end there.
To help you decide which of the two most well-known site builders is the best bet for your business site, we'll compare their key features, ease of use, templates, and overall design flexibility. Additionally, we'll check pricing and customer support, both of which are top priorities for newcomers.
While there are some clear differences between Wix and GoDaddy, deciding which is better sometimes comes down to personal preference – so let's dive in and find out which is the right choice for you.
Main similarities and differences
Given that GoDaddy and Wix are both industry leaders in site building, it's no surprise that they have a similar audience in mind – hobby bloggers, small and medium-sized businesses and e-commerce stores.
As a result, their site builder solutions are created to make the task of site building simple, without web magic, and economical. Moreover, both providers offer multiple customer support channels for their users at no additional cost, which is always good news.
Although GoDaddy has been around for over two decades, their site builder was launched in 2017 and the newest and upgraded version called Websites + Marketing hit the scene this year. By contrast, Wix's site builder has been around since 2006, and the company has wasted no time expanding its product lineup, including Ascend, Dine, and Editor X.
Moreover, since both site building solutions are complete and suitable for creating all kinds of sites, it is sometimes difficult to find what distinguishes them from each other and to choose the right one for your project. line.
Characteristics compared
Wix comes with great built-in features that cover everything from fully customizable forms, data analytics, and member area functionality to social media tools, email marketing, and a well-stocked app store. – and everything can be easily dragged and dropped. of a sidebar to your site.
On the other hand, GoDaddy offers a more humble but solid collection of built-in features (such as additional options designed for specific industries) that are ideal for novices, simpler sites, and small businesses. Unfortunately, GoDaddy does not currently offer an app store.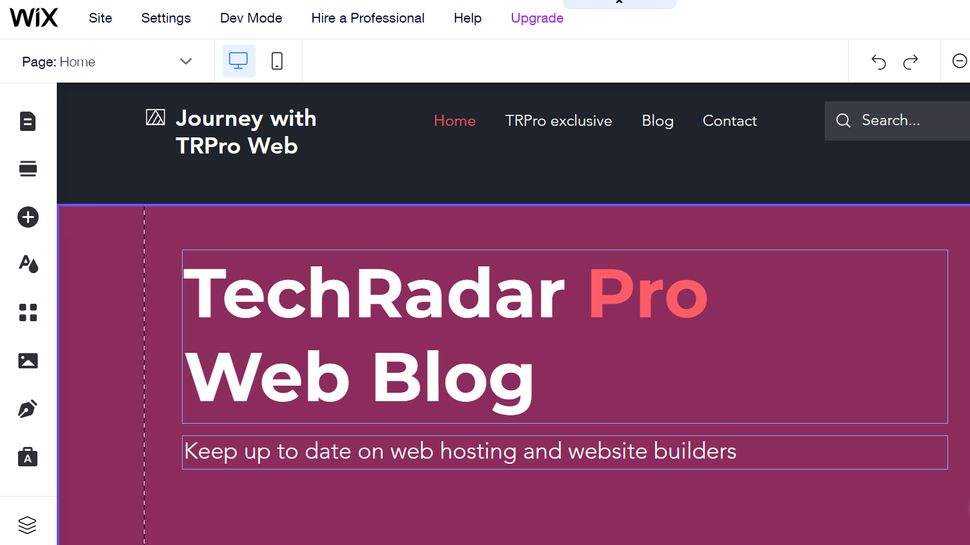 Ease of use
Thanks to its drag-and-drop editor, the Wix site builder is extremely easy to use, even for non-techies. It also offers fast ADI (artificial design intelligence) that allows almost anyone to customize a site in one go – feed the ADi with information about the site you've envisioned and within minutes Wix will create a custom website. website for you.
On top of that, Wix offers a classic Wix editor which offers a higher level of customization choices – however, there is a bit of a learning curve, so it's best suited for users with some technical know-how.
With the GoDaddy site builder, you will only get one editor and another that has compromised flexibility for the sake of simplicity. While it's still a great choice for newcomers who want to build custom sites in no time (its ADI setup is incredibly quick and easy), it doesn't offer the same level of customization as Wix's builder.
Pricing
The good news is that both providers offer free trials, which means you can try them out for yourself without spending any money – it lasts 14 days with Wix and a month with GoDaddy.
In terms of choice, Wix offers more plans (where three out of six are specifically configured for e-commerce sites) but they also come at a higher cost – its cheapest plans start at $4.50 per month (that's is too limited to be taken seriously) and the most expensive at $35 for a month.
While GoDaddy offers fewer plans (there are four in total), they range in price from £4.99 ($6.05) to £13.99 ($16.95) per month – making the plans premium and e-commerce specific considerably cheaper and more competitive than what you can get. with Wix.
We should also note that the cheapest plan with GoDaddy comes with severe feature restrictions (no SEO, no e-commerce tools, and no recurring online appointments). At the same time, with Wix's entry-level plan, your site will be forced to use its subdomain and display its ads.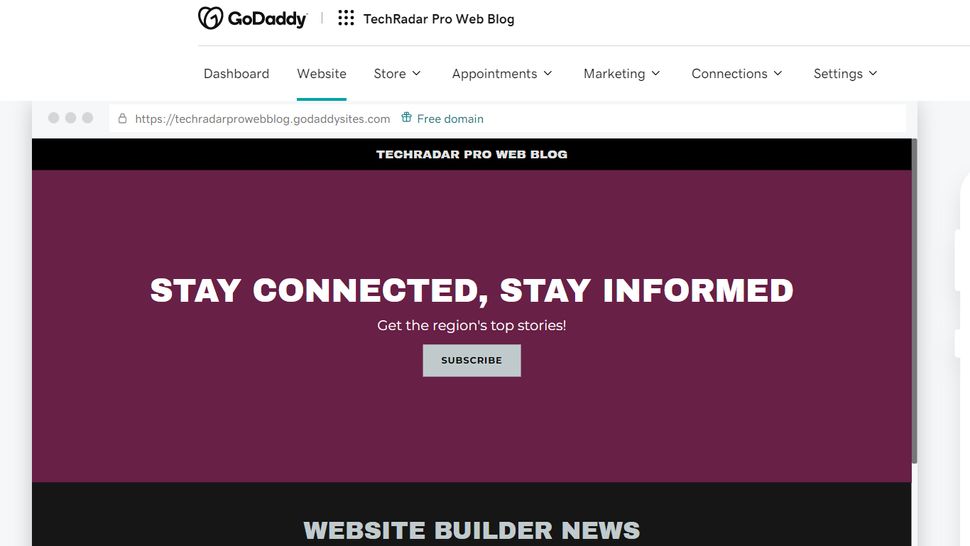 Models and overall design comparison
In terms of choice, Wix crushes GoDaddy without a hitch – there are over 900 templates to choose from across 17 main categories, and most of them are industry-specific. After choosing one, you can use a drag-and-drop editor to place elements where you want and create a more unique look.
Although Wix does not offer mobile-friendly templates, all templates come with a second mobile-focused version for a smooth smartphone experience. Also, once you choose a template, the only way to replace it with another is to start creating a new site from scratch.
On the other hand, GoDaddy offers a whopping 22 themes, which is one of the most disappointing drawbacks of their site builder. Also, the level of customization is quite low, especially the lack of options for mobile users. However, to be fair, they are well-designed, modern, and mobile-friendly.
Alternatives to Wix and GoDaddy
If you want something similar to Wix (but not Wix), your best bet is its strong competitor Squarespace – it offers an equally easy-to-use interface, advanced customization choices, jaw-dropping templates, but no app store or add-ons.
If Squarespace doesn't appeal to you, you should check out Weebly – it's simpler than Wix but offers a free plan, built-in SEO tools, and great e-commerce features. Another cheap and convenient alternative to Wix is ​​Webnode – it uses a simple interface and an extremely easy-to-use editor, but falls short on customization.
GoDaddy is loved by many, but not all – so if you fall into the latter category, be sure to check out Site123, a cheap and simple site builder that unfortunately suffers from a severe lack of customization choices – you can't even choose your model.
Jimdo is another quick and easy alternative to GoDaddy that targets independent entrepreneurs. So, if you are planning to create a portfolio, a starter site or a small online store, Jimdo could be a good choice. And if you want to start a booming e-commerce business, Shopify should be your first choice for a site builder – it's also an end-to-end e-commerce platform.
Customer service
In terms of support types, Wix and GoDaddy are on the same level – both offer a 24/7 phone line, 24/7 live chat, and an email support ticket system.
If you prefer to stay on your own, you'll find a knowledge base filled with easy-to-follow guides with both providers.
Wix's only advantage over GoDaddy is having on-page prompts in its site editor, which will save you time and effort. Although GoDaddy provides fairly detailed descriptions of most items, there is no on-page support like with Wix.
final thought
All things considered, there's no denying Wix presents itself as a stronger contender – it's easier to use than GoDaddy, it offers superior design flexibility, and it provides a well-stocked app market.
However, if you don't care much about customization, GoDaddy's most user-friendly plan won't force annoying ads on your site (which Wix doesn't) and will give you everything you need. to quickly create a site.
So if you want more creative control, Wix is ​​the way to go. if you want a mix of ease and efficiency, GoDaddy is a great choice.
If you are building a website, choosing the best web hosting provider should also be on your to-do list.